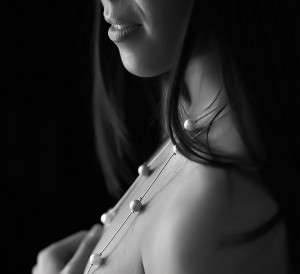 I had such an amazing experience shooting my first boudoir photos! Thank you Perry and Jessica for making my experience really special. I had always wanted to try something daring that would allow me to unleash my inner sex goddess, and after my consultation, I was convinced that a boudoir shoot would be perfect.
My whole experience started with being picked up in a limo, which was perfect, because I was able to relax and enjoy a glass of wine (or two!) before my shoot. Jessica did an amazing job with my makeup, and really set the tone with bold eye makeup and sleek sexy hair. She helped me coordinate my outfits, and picked the accessories that would go with the look I was going for. We had a great time chatting before the actual shoot, and I felt like I was in the company of an awesome friend.
I was really worried about posing in front of the camera, but once I was ready to go, I felt like a star! Perry was great with guiding me through it, and the poses felt really natural. I was having so much fun and could barely contain myself sometimes because Perry was so hilarious! Every so often I'd get to see a raw shot of the photo and thought "WOW I look amazing!" Perry and his team did an awesome job making me look and feel like a goddess! Who knew this good girl had such a wild side 😉
I definitely recommend Perry's team to anyone thinking about doing a sexy photo shoot. Trust me… it's so liberating and you get to work with such a talented bunch of people. Thanks again for an amazing experience!